Posts for tag: dental implant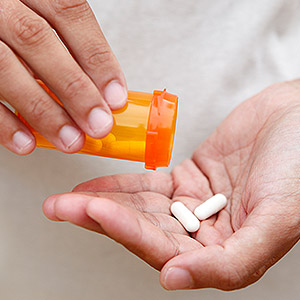 Although getting an implant requires surgery, it's usually a minor affair. Chances are good that after just a few days recuperation you'll be back completely to your normal activities.
But like many other minor surgeries, an implant procedure does pose a slight risk of post-op infection. That's especially so with any dental procedure like implant surgery, since the mouth harbors numerous strains of bacteria that could escape into the bloodstream. For most people, though, a post-op infection doesn't pose a major problem since their immune system kicks in immediately to defeat it.
But some patients with less than robust immune systems or other health problems can have serious complications from an infection. Among other things, infected tissues around an implant may not heal properly, putting the implant at significant risk for failure.
If you have a condition that makes a post-op infection problematic, your dentist or physician may recommend you take an antibiotic before your procedure. Known as prophylactic (preventive) antibiotic treatment, it's intended to give a weakened immune system a head-start on any potential infection after a procedure.
Using antibiotics in this way has been a practice for several decades, and at one time were recommended for a wide list of conditions. That's changed in recent years, though, as evidence from numerous studies seems to show the risk to benefit ratio isn't significant enough to warrant its use in all but a handful of conditions.
Both the American Dental Association and the American Heart Association recommend prophylactic antibiotics for patients with prosthetic heart valves, past infective endocarditis, a heart transplant and some congenital heart conditions. Some orthopedists may also recommend it for patients with prosthetic joints.
Even if you don't fall into these particular categories, prophylactic antibiotics may still be beneficial if you have a compromised immune system or suffer from a disease like diabetes or lung disease. Whether or not a prophylactic antibiotic is a prudent step given your health status is a discussion you should have with both your physician and your dentist.
If they feel it's warranted, it can be done safely in recommended doses. If your health isn't as robust as it could be, the practice could give you a little added insurance toward a successful implant outcome.
If you would like more information about dental implant surgery, please contact us or schedule an appointment for a consultation. You can also learn more about this topic by reading the Dear Doctor magazine article "Implants & Antibiotics."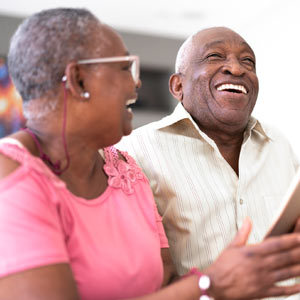 Complete tooth loss is a common condition among older adults, gradually occurring one or two teeth at a time. There often comes a point of realization, though, that all the teeth will eventually be lost.
This can create a dilemma: Do you replace teeth as they're lost, or go ahead and have all of them removed at one time?
Up until recently, the latter choice seemed the most practical and affordable. But most dentists would agree that keeping natural teeth for as long as practical is better for a person's overall oral health and to slow any potential bone loss.
The emergence of dental implants has made this less of a dilemma: We can use this technology to more affordably replace teeth in stages rather than all at once. This is because an implant is technically a root replacement: a dentist inserts a titanium metal post into the jawbone. Because of an affinity with titanium, bone cells grow and adhere to the implant surface, which creates a stronger hold. It also impedes bone loss.
We can, of course, use implants as individual tooth replacements. But the expense of this approach with multiple teeth puts it well out of reach financially for many people. But implants can also be used as connective points between the patient's jaw and other kinds of dental restorations like bridges, partial dentures, and full removable or fixed dentures.
Using this approach, we can adopt a strategy of allowing healthier teeth to remain until it's necessary to remove them. We initially place implants to support a bridge, for example; later we can use the same implants along with additional ones to support a larger restoration, even a fixed full denture.
An implant-supported restoration is typically more expensive than traditional bridges or dentures, but far less than replacing teeth with individual implants. And because the stages of restorations may occur over a long period of time, the cost can be spread out to make it more manageable.
If you're facing a future where it's likely you'll lose all your teeth, you don't have to lose them all at once. Staged restorations with implants could help you hold on to your natural teeth for as long as possible, slow bone loss and make for a healthier mouth.
If you would like more information on the wide array of dental restoration options, please contact us or schedule an appointment for a consultation. You can also learn more about this topic by reading the Dear Doctor magazine article "Replacing All Teeth But Not All at Once."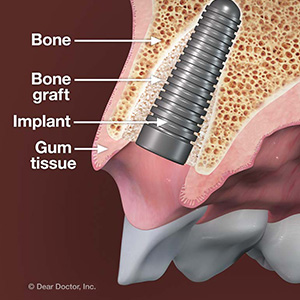 If you've been dealing with a tooth that needs to be removed—or it's already missing—you may be looking to replace it with a dental implant. And it's a great choice: No other restoration can provide the appearance and function of a real tooth like an implant.
You and your smile are ready for it. The question is, though, are your gums and underlying bone ready? These dental structures play a critical role in an implant's stability and eventual appearance. A problem with them may make placing an implant difficult if not impossible.
An implant requires around 2.0 millimeters of bone thickness surrounding the implant surface for adequate support and to minimize the chances of gum recession. But tooth loss often leads to bone loss that can drop its thickness below this threshold. This can make placing an implant problematic.
Fortunately, though, we may be able to address the lack of sufficient bone through bone grafting. By placing grafting material within the empty socket, we create a scaffold for new bone cells to grow upon. Over time this subsequent growth may be enough to maintain an adequate thickness of bone for an implant to be placed.
The gums may also pose a problem if they've shrunk back or receded from their normal positions, as often happens because of gum disease (which may also have precipitated the tooth loss). Again, grafting procedures can help ensure there's adequate gum coverage for the implant. And healthier gums may also help protect the underlying bone from loss.
There are several techniques for placing gum tissue grafts, depending on how much recession has taken place. One procedure in particular is often used in conjunction with implant placement. A small layer of synthetic collagen material or gum tissue referred to as pa dermal apron is included with the implant when its placed. Settling into the bone socket, this apron helps thicken the gum tissues, as well as preserve the underlying bone.
During your preliminary exams, we'll assess your bone and gum health to determine if we should take any steps like these to improve them. It may add some time to the implant process, but the end result will be well worth it.
If you would like more information on dental implants, please contact us or schedule an appointment for a consultation. You can also learn more about this topic by reading the Dear Doctor magazine article "Immediate Dental Implants."